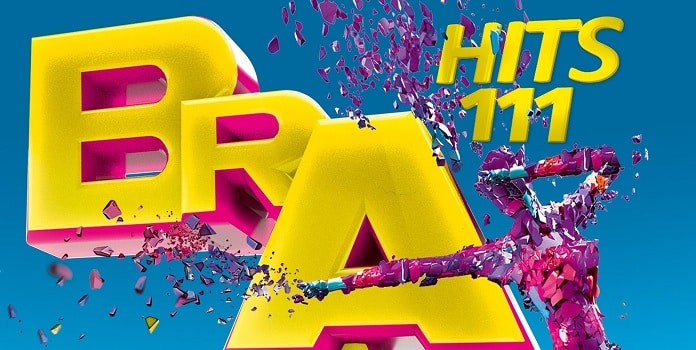 Mit der Bravo Hits 111, kommt die Charts Compilation Nummer 1 mit ihrer grandiosen Tracklist nach Hause. Wenn es um Top Musik aus den Charts geht, kommt man in Deutschland nicht an der Bravo Hits Reihe vorbei, denn sie ist bereits seit Jahren die erfolgreichste Chart Compilation in Deutschland.
Nur die The Dome Reihe kann der Bravo Hits Reihe noch das Wasser reichen, wenn auch nicht gleichziehen. Die 111. Ausgabe wird auch schon die letzte reguläre Ausgabe im Jahr 2020 sein, denn in den Wintermonaten folgt noch die Best of Ausgabe, ehe es dann Anfang 2021 wieder mit der 112. Ausgabe weiter geht.
Wer sich also noch einmal mit den besten Hits aus den aktuellen Single Charts eindecken möchte, sollte sich den 2. Oktober 2020 im Kalender schon einmal dick und fett markieren. Der Grund dafür liegt auf der Hand, denn die Bravo Hits 111 feiert am 2. Oktober 2020 ihren Release.
Freut euch also schon jetzt auf zahlreiche Newcomer, sowie die besten nationalen und internationalen Stars. Sobald Sony Music die Tracklist der Bravo Hits 111 freigegeben hat, werden wir euch diese natürlich direkt nachreichen, damit ihr schon vor dem Release wisst was euch hier erwartet.
Natürlich könnt ihr schon jetzt die Zeit sinnvoll nutzen, um das gute Stück ordentlich vorzubestellen, damit wir noch lange Spaß an der Bravo Hits Reihe können.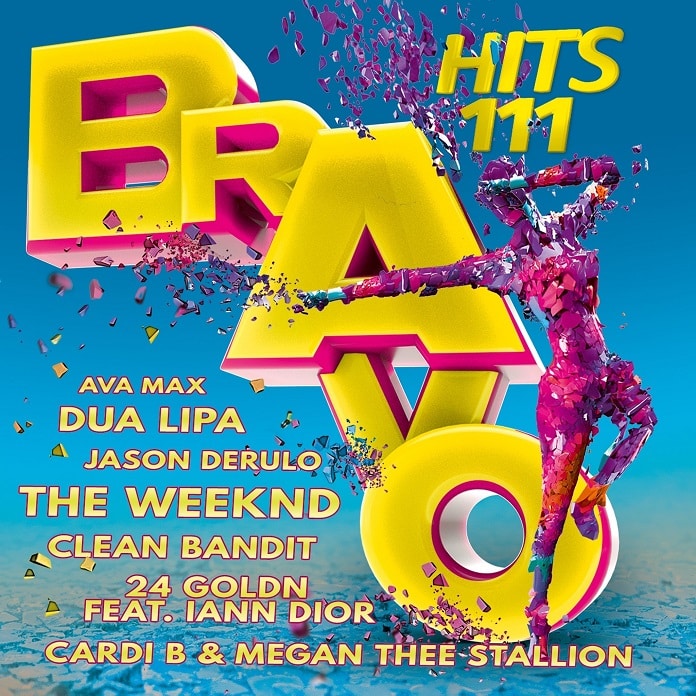 Disk 1:
01.24kGoldn feat. Iann Dior – Mood 2:20
02.Cardi B feat. Megan Thee Stallion – Wap 3:07
03.Ava Max – Who's Laughing Now 3:00
04.Clueso – Flugmodus 2:59
05.Dennis Lloyd – Alien 2:25
06.Revolverheld – Leichter 3:20
07.Tate McRae – you broke me first 2:49
08.Dermot Kennedy – Giants 2:57
09.Billie Eilish – my future 3:28
10.LEA x MAJAN – Beifahrersitz 3:20
11.Johannes Oerding – Ungeschminkt 2:54
12.Katy Perry – Smile 2:45
13.Badchieff feat. Cro – Fall Auf 3:13
14.Silbermond – Ein anderer Sommer 3:27
15.Claire Rosinkranz- Backyard Boy 2:09
16.Matthias Schweighöfer – Lauf 3:18
17.Michael Schulte – For a Second 3:15
18.James Bay – Chew On My Heart 3:15
19.Lukas feat. G-Eazy Graham – Share That Love 2:52
20.J. Balvin, Dua Lipa, Bad Bunny feat. Tainy – Un Dia (one Day) 3:52
21.Pop Smoke feat. Lil Tjay – Mood Swings 3:33
22.Bausa & Juju – 2012 2:50
23.Capital Bra feat. Cro – Frühstück in Paris 2:31
Disk 2:
01.Jason Derulo – Take You Dancing 3:10
02.Tina Turner Kygo – What's Love Got to Do with It 3:28
03.Ofenbach & Quarterhead feat. Norma Jean Martine – Head Shoulders Knees & Toes 2:36
04.The Weeknd – In Your Eyes 3:57
05.Dua Lipa – Hallucinate 3:28
06.Mark x VIZE Forster – Bist du Okay 2:51
07.Felix feat. Nea & Bryn Christopher Jaehn – No Therapy 2:53
08.Clean Bandit and Mabel feat. 24kGoldn – Tick Tock 2:58
09.Topic x A7S feat. Lil Baby – Why Do You Lie To Me 2:51
10.Danny & Ekko City Avila – Bleeding Love 2:30
11.YouNotUs & Amber Van Day – Papa 2:51
12.James Arthur, Sigala & James Arthur – Lasting Lover 3:38
13.Joker Bra & Leony VIZE – Paradise 2:36
14.Glockenbach & Mougleta – Dancing In The Dirt 2:58
15.Gia Koka, Afrojack feat. Gia Koka Imanbek – Hey Baby 2:57
16.Matt Simons – Better Tomorrow 3:01
17.Kay One feat. Cristobal – Bachata 2:58
18.Pietro Lombardi – Cinderella 2:59
19.Bob Marley feat. Robin Schulz – Sun Is Shining 3:05
20.Celine – Zu Besuch 2:24
21.KitschKrieg & Jamule – Unterwegs 3:51
22.Master KG feat. Nomcebo Zikode – Jerusalema 3:08