Die Club Sounds Best of 2014 steht in den Startlöchern und somit neigt sich das Jahr dem Ende zu aber mit der Tracklist dieser Compilation bekommt ihr nochmal alle wichtigen und großen Hits des Jahres und somit könnt ihr eure Silvester Party schon einmal ordentlich beschallen.
Die meisten von euch haben sicher in den letzten Monaten das eine oder andere Festival besucht und zu den größten BigRoom Hits eurer großen Idole so richtig abgefeiert. Genau dieses Hits findet ihr nun auf dieser 3er CD-Box, so könnt ihr eure Erinnerungen an die Festivals noch einmal zurück holen.
Bereits die letzten Ausgaben der Club Sounds Reihe waren ein großer Erfolg, so ist es nicht verwunderlich, dass wir damit rechnen, das auch diese Ausgabe es in den Compilation Charts nach ganz oben schaffen wird.
Wir haben an dieser Stelle bereits die Tracklist und das Cover der Club Sounds Best of 2014 am Start und das obwohl diese erst am 21. November 2014 erscheint. Wer nicht warten möchte, kann sich z.B. mit der Future Trance 70 oder der Tunnel Trance Force 71 die neusten Hits nach Hause ins heimische Wohnzimmer holen.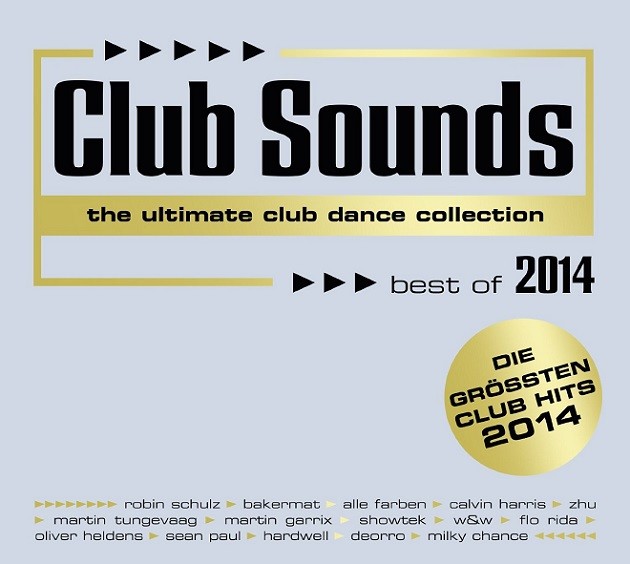 Disk: 1
1. Waves – Robin Schulz Radio Edit – Mr. Probz
2. One Day (Vandaag) – Radio Edit – Bakermat
3. Changes – Radio Mix – Faul & Wad Ad Vs. Pnau
4. Stolen Dance – Flic Flac Radio Edit – Milky Chance
5. Willst Du – Radio Mix – Schulz, Robin & Alligatoah
6. She Moves (Far Away) – Radio Mix – Alle Farben Feat. Graham Candy
7. My Love – Route 94 Feat. Jess Glynne / Glynne, Jess
8. Netzwerk (Falls Like Rain) – Klangkarussell
9. Back Home – Radio Edit – Kalkbrenner, Fritz
10. Faded – Zhu
11. Almost Home – Sebastien Edit – Moby Feat. Damien Jurado
12. Brutal Hearts – Flicflac Radio Edit – Bedouin Soundclash
13. Sunny – Radio Edit – Traum:A
14. Back Home – Kayliox Remix – Mynga Feat. Cosmo Klein
15. I Wanna Feel – Secondcity / Kelli-Leigh / Bedingfield, Daniel / Fenton, Adam
16. Stay – Justin Martin Remix Radio Edit – Krinkle, Henry
17. Ghost – Switch Remix Radio Edit – Henderson, Ella
18. Schöner Moment – Pretty Pink Radio Mix – Chapeau Claque & Pretty Pink
19. Feels Like Home (Red Velvet Dress) – Video Edit – Spada Feat. Hosie Neal
20. Can't Stop Playing – Oliver Heldens & Gregor Salto Edit – Dr. Kucho! & Gregor Salto
21. Gecko (Overdrive) – Heldens, Oliver & Becky Hill
Disk: 2
1. Summer – Harris, Calvin / Harris, Calvin
2. Addicted To You – Avicii
3. Wicked Wonderland – Tungevaag, Martin
4. Nobody To Love – Sigma
5. How I Feel – Rida, Flo
6. Turn It Up – Paul, Sean
7. Another Love – Dimitri Vangelis & Wyman Remix – Odell, Tom / Odell, Tom
8. I Will Never Let You Down – R3hab Remix Radio Edit – Ora, Rita
9. Rude – Zedd Remix – Magic! / Nasri
10. Remember To Forget – Michael Mind Project Radio Edit – Carlprit Feat. Jaicko
11. All Of Me – Tiesto's Birthday Treatment Remix – Radio Edit – Legend, John / Legend, John
12. Show Me Love – Official Festival Mix Edit – Michael Mind Project
13. Lepo Lepo – Radio Edit – Psirico & Pitbull
14. Light It Up – Bodybangers Radio Edit – Dj Antoine
15. It's My Life 2014 – Bodybangers Radio Edit – Dr. Alban
16. Enemy (Axel F) – Original Edit – Slazy Feat. J-Sun
17. Be.Angeled – Bodybangers Remix Edit – Jam & Spoon Feat. Rea / Garvey, Rea
18. No Limit – Radio Edit – Bodybangers Feat. Victoria Kern & Godfrey Egbon
19. I Lost Myself – Club Edit – Dj Shog / Fröhlich, Jens
20. Kids – Radio Version – Style Of Eye Feat. Soso
21. Alive – Radio Mix – Bate, Shaun & Sam Walkertone
22. Falling – Adrima Remix Edit – Nero, Mike
23. One In A Million – Cj Stone Radio Edit – R.I.O. Feat. U-Jean
Disk: 3
1. Wizard – Radio Edit – Garrix, Martin & Jay Hardway
2. Tsunami – Radio Edit – Dvbbs & Borgeous
3. Booyah – Radio Edit – Showtek Feat. We Are Loud And Sonny Wilson
4. Bigfoot – Radio Edit – W&W
5. Delirious (Boneless) – Aoki, Steve, Chris Lake & Tujamo Feat. Kid Ink
6. #Selfie – The Chainsmokers
7. Dare You – Radio Edit – Hardwell Feat. Matthew Koma / Koma, Matthew
8. Ping Pong – Radio Edit – Van Buuren, Armin
9. Tremor – Radio Edit – Vegas, Dimitri & Martin Garrix & Like Mike
10. Yee – Original Mix – Deorro
11. Bounce Generation – Radio Edit – Tjr & Vinai
12. Flute – Clean Radio Mix – New World Sound & Thomas Newson
13. Bounce – Radio Edit – Bryce
14. I'm Alive – Radio Edit – Twoloud
15. Jump – Ddei & Estate Remix Edit – Holmes & Watson
16. Azuria – Original Edit – Emanuel, Dave
17. Highlander (Acid Folk 2014) – Radio Edit – Amfree Vs. Ddei & Estate
18. Are You Ready – Ddei & Estate Remix Edit – Hoxtones
19. Eat Sleep Rave Repeat – Dimitri Vegas & Like Mike Vs. Ummet Ozcan Tomorrowland Radio Edit – Fatboy Slim & Riva Starr Feat. Beardyman
20. Dr. Who! – Edit – Tujamo & Plastik Funk Feat. Sneakbo
21. Cheer Up – New World Sound
22. Into The Wild – Sebjak & Jaz Von D
23. Turn Down For What – Dj Snake & Lil Jon