Die neue Future Trance 95 steht in den Startlöchern und schickt ihre grandiose Tracklist ins Rennen. Auf dem deutschen Markt kämpfen die Future Trance Reihe, sowie die Kontor Top of the Clubs Compilation um den Platz der erfolgreichsten Dance Compilation, diesen Titel beanspruchen mittlerweile beide Compilation.
Die Tracklist der Future Trance 95 lässt wie gewohnt keine Wünsche offen, denn hier findet ihr zahlreiche Top Tracks von den ganz großen der Musikszene. Gemeint sind hier natürlich Songs von z.B. ATB, Topic & A7S, MEDUZA, Armin van Buuren, Scooter, Alok, VIZE, Klaas, Da Tweekaz und viele mehr.
Neben den üblichen Top Tracks auf den ersten beiden CDs, bekommt ihr auf der dritten CD nochmal eine ganz besonderes Auswahl. Die ersten Festivals, wie z.B. Defqon 1 wurden bereits abgesagt für dieses Jahr, dennoch bleibt die Hoffnung, zumindest noch einige Events erleben zu dürfen.
Der Release Termin der brandneuen Dance Musik Compilation Future Trance 95, ist für den 26. Februar 2021 angesetzt und steht somit kurz bevor. Damit ihr schon vor dem Kauf wisst, was euch hier alles erwartet, haben wir die Tracklist und dazu passende Cover für euch parat.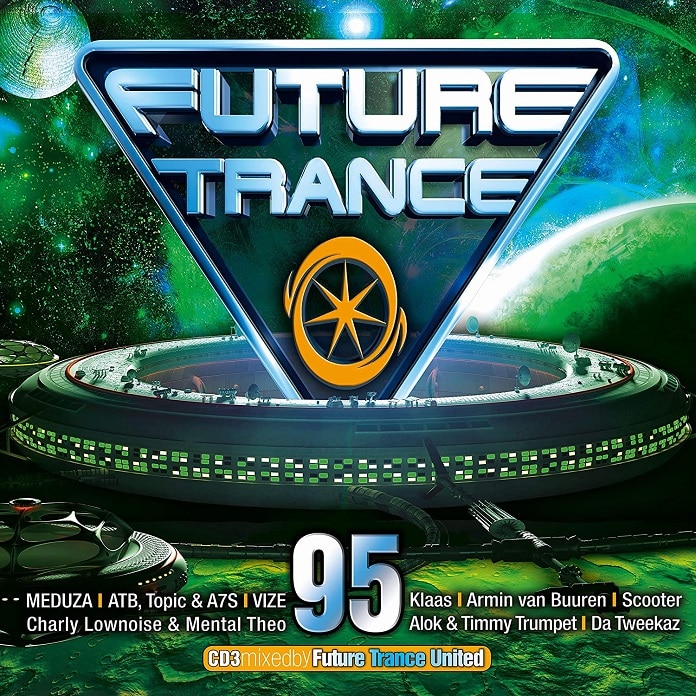 Disk 1:
01.Atb, Topic, A7s – Your Love (9PM) 2:31
02.Meduza – Paradise 2:50
03.Robin Schulz – All We Got (Ofenbach Remix) 2:09
04.Tiësto -The Business 2:44
05.Alok, Daniel Blume – Rapture 2:47
06.Rea Garvey, Vize – The One 2:45
07.Billen Ted, Nathan Evans, 220 Kid – Wellerman (Sea Shanty / 220 KID x Billen Ted Remix) 1:57
08.Goodboys, Imanbek – Goodbye 2:24
09.Faulhaber, Felix Jaehn, Toby Romeo – Where The Lights Are Low 2:17
10.Behmer, Besomorph, Lunis – What I've Done 2:22
11.Drenchill, Nora & Chris – Remedy 2:30
12.Freischwimmer – My Arms Keep Missing You 2:23
13.Perfect Pitch – Tainted Love 2:34
14.Klaas – Won't Run Away 2:41
15.Niels Van Gogh, Elle Vee, New Sound Nation – Toxic 2:48
16.Cuebrick, Moestwanted – Cry For You 2:20
17.Alok, Timmy Trumpet – Underwater Love (LA Vision Remix) 2:29
18.Kya, Micast – To France (Steve Modana Remix) 2:35
19.Gabry Ponte, Timmy Trumpet – Mad World 2:33
20.Jerome – Sick Of You 2:33
21.Rocco – No Limit 2:34
22.Tujamo – Enough Of You 2:28
23.Pascal Letoublon – Friendships (Lost My Love) (ATB Remix) 3:25
Disk 2:
01.Klaas – How Far Can We Go (Averro Remix) 2:46
02.Da Tweekaz – Heroes Of Today (Radio Version) 2:57
03.Charly Lownoise, Mental Theo – Your Smile (Kane Scott Remix) 3:13
04.W&w, Axmo – Rave Love 3:09
05.Tnt, Darren Styles – Wonder (Radio Version) 3:43
06.Paul Elstak, Out Of Cookies – Call Home 3:21
07.Scooter, Timmy Trumpet – Paul Is Dead 2:55
08.Pulsedriver – Kiss So Deadly (Quickdrop Remix) 3:10
09.Niviro – The Phantom 3:01
10.Ziggy Xfeat. Sedutchion – Frequencies Lost 2:33
11.Quickdrop – So Predictable 3:06
12.Jerome, Harris & Ford – Higher Space 2:58
13.Topmodelz, Chris Deelay – Keep On Movin' (Uwaukh Remix) 2:36
14.Jay Reeve – Feel Good (Radio Version) 4:10
15.Headhunterz – Dragonborn part 3 (Oceans Apart) 3:30
16.Basslovers United, Averion – A+ Superstar 2k21 3:10
17.Alex Megane, Alex M. – Whoomp (There It Is) (NewDance Edit) 3:27
18.Brooklyn Bounce – X2X (We Want More) (Dr Skull Remix) 4:40
19.Mashmex – Moments With You 2:55
20.Riko, Kane Scott – Lift Off 3:39
21.Steve Modana – Freaking Out 2:20
22.Mausio – Friends 3:17
23.Dj Gollum, Dj Cap, Marcel Galos – Creatures Of The Night 4:14
Disk 3:
01.Future Trance United – Future Trance Vol. 95 Intro 1:01
02.Armin van Buuren – Turn The World Into A Dancefloor (Asot 1000 Anthem) (Extended Mix / FT 95 Edit) 5:09
03.Christina Novelli, Danny Cullen, Hit The Bass – Wherever You Go (Eximinds Extended Remix / FT 95 Edit) 3:04
04.Bogdan Vix, Claudiu Adam – Stardust (Extended Mix / FT 95 Edit) 3:04
05.Rene Ablaze – Kinesis (Extended Mix / FT 95 Edit) 4:52
06.Roman Messer – Lost & Found (Extended Full Fire Mix / FT 95 Edit) 3:32
07.Art Of Trance – Madagascar (Alex M.O.R.P.H. Extended Remix / FT 95 Edit) 3:50
08.Signum – Coming On Strong (ReOrder Extended Remix / FT 95 Edit) 3:15
09.Armin van Buuren – Need You Now (Allen Watts Extended Remix / FT 95 Edit) 3:29
10.Talla 2Xlc – Speed Of Sound (Extended Rework / FT 95 Edit) 2:47
11.Christopher Corrigan – Auspicious (Extended Mix / FT 95 Edit) 3:37
12.Roman Messer – Sweet Desire (Bogdan Vix Extended Remix / FT 95 Edit) 3:08
13.Christina Novelli – Numb (Extended Mix / FT 95 Edit) 4:05
14.Van Der Karsten, Airwalk3r – Shining Pulsar (Extended Mix / FT 95 Edit) 2:21
15.Steve Dekay, Nathia Kate – Only You (Extended Mix / FT 95 Edit) 4:00
16.Talla 2Xlc, Xijaro & Pitch – Aniara (Talla 2XLC vs. XiJaro & Pitch / Club Mix / FT 95 Edit) 4:07
17.Sara Fray – Greenscape (Extended Mix / FT 95 Edit) 3:53
18.Xijaro & Pitch – Mina (Extended Mix / FT 95 Edit) 4:07
19.Andy Jay Powell, Klubbingman, Dj Fait – You Look Like Fire (Savon Extended Mix / FT 95 Edit) 4:21
20.Steve Jetric – 1000 Angels (Extended Mix / FT 95 Edit) 2:45
21.Paul van Dyk, Will Atkinson – Awakening (FT 95 Edit) 2:58
22.Giuseppe Ottaviani – Explorer (Extended Mix / FT 95 Edit) 3:02
23.Megara Vs Dj Lee – United Nation (Extended Rework / FT 95 Edit) 3:26