Die neue Sunshine Live 61 steht vor der Tür und endlich haben wir auch die Tracklist für euch am Start. Im Bereich der Compilations von sunshine live, sind wir es ja gewöhnt, dass die Tracklist immer kurz vor knapp erscheint, was sicherlich viele Käufer davon abhält sie vor zu bestellen und so direkt mal Werbung für die CD entgeht.
Denn man weiß ja heute kaum noch was auf den Markt kommt, da sind z.B. die Amazon Besteller Charts schon sehr wichtig. Diese Ausgabe der neuen Sunshine Live Compilation kommt als 3er CD-Box um die Ecke, wie jedoch bereits bei der neuen Kontor Top of the Clubs geschrieben, ist dies im Dance Music Bereich fast schon normal.
Auf der neuen Sunshine Live 61 findet ihr reichlich Top Tracks von z.B. Armin van Buuren, Nature One Inc, Ummet Ozcan, Talla 2XLC, Neelix, Paul van Dyk, Sander van Doorn, Scooter, Thomas Gold und viele weitere. Die sunshine Live Redaktion hat hier eine gute vielfallt aus dem laufenden Radioprogramm zusammen gestellt.
Ab dem 6. Oktober 2017 steht die Sunshine Live 61 für euch im Handel bereit. Wer das gute Stück noch nicht vorbestellt hat, sollte dies schnell tun, damit ihr jedoch wisst was euch erwartet, haben wir wie immer die Tracklist und das passende Cover für euch am Start.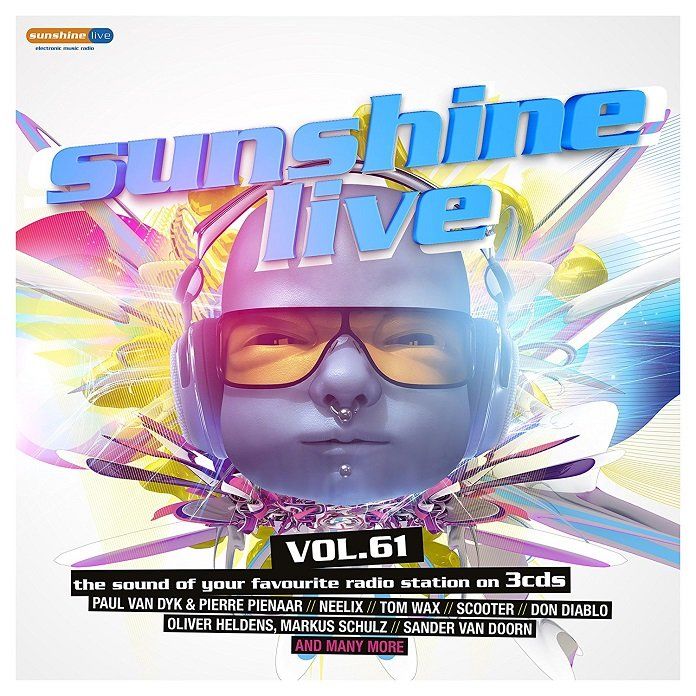 Disk 1:
01. Armin van Buuren, Sunnery James & Ryan Marciano – You Are
02. Felix Jaehn, Hight & Alex Aiono – Hot2Touch
03. Thomas Gold feat. Jillian Edwards – Magic (Alex Preston Remix)
04. Micar – Burden Down
05. Scooter – Bora! Bora! Bora!
06. Sander van Doorn – The Rhythm
07. KSHMR & Marnik – Mandala ft. Mitika
08. Nature One Inc. – We Call It Home (Prod. By Cuebrick)
09. Fox Stevenson & Mesto – Chatterbox
10. MAD M.A.C. & Jamis – Renegade Master (Dimitri Vegas & Like Mike Edit)
11. Mor Avrahami – The Forest Goddess
12. Jewelz & Sparks – Grande Opera
13. Ummet Ozcan ft Ambush – Bombjack
14. Kryder – Dogs On Acid
15. Klubbingman & Andy Jay Powell – From the dark
16. Talla 2XLC ft. Carl B & Katie Marne – Keep this fire burnin 2017
17. Markus Schulz Presents Dakota feat. Bev Wild – Running Up That Hill
18. Paul van Dyk & Pierre Pienaar – Stronger Together
19. Mark Sixma presents M6 – Heartbeat
20. Neelix – 1000 Sterne
Disk 2:
01. Gestört aber GeiL feat. LEA – Wohin willst du
02. Stereoact feat. Chris Cronauer – Bis ans Ende dieser Welt
03. 2raumwohnung – Hotel Sunshine (Nacht)
04. Nora En Pure – Tears in Your Eyes
05. MOGUAI, YOUNOTUS feat. Nico Santos – Lessons – Parookaville 2017 Anthem
06. The Disco Boys – Memories
07. Martin Solveig feat. Ina Wroldsen – Places
08. EDX – Bloom
09. Starley – Touch Me
10. Martin Jensen – Solo Dance
11. Alok, Bruno Martini feat. Zeeba – Hear Me Now
12. Talstrasse 3-5 & Ben K. feat. Oni Sky – L'Amour Toujours
13. Jay Frog & Alex M. feat. Kash – Singin' In My Mind
14. Tom Staar, Rob & Jack – Sunshine
15. Eelke Kleijn – Home
16. Human Resource – Dominator (Wax Worx Remix)
17. Federico Scavo – Bom Bom
18. Watermät X Pep & Rash – Ruff Like This
19. Klangkuenstler – House Nation
20. Simon Fava – El Encanto
Disk 3:
01. ATB feat. HALIENE – Pages
02. Nalin & Kane – Beachball (Sebastien Remix)
03. Lost Frequencies feat. Netsky – Here with You
04. Deepswing – In The Music (Michael Feiner Remix)
05. Mastrovita – Invsbl Dreams
06. Don Diablo – Momentum
07. HI-LO & Sander van Doorn – WTF
08. Watermät feat. Kelli-Leigh – Won't Stop
09. Zonderling – Tunnel Vision (Don Diablo Edit)
10. Ron Carroll – Lucky Star (Rene Amesz Remix)
11. FAUL & WAD vs Avalanche City – I Need You
12. Shapov & MEG \ NERAK – Breathing Deeper (Corey James Remix)
13. Chico Chiquita & Bragaa feat. Nathan Brumley – Dream Made Real
14. Tujamo – Make U Love Me
15. Luca Debonaire – Headrockers
16. Jax Jones feat. RAYE – You Don't Know Me
17. Fedde Le Grand vs. Ian Carey – Keep On Rising
18. Oliver Heldens – Ibiza 77 (Can You Feel It)
19. Bodyrox – Yeah Yeah (Chocolate Puma Remix)
20. Tom Wax feat. Aquilla Fearon – Flashback (Aquilla Fearon Vox Mix)